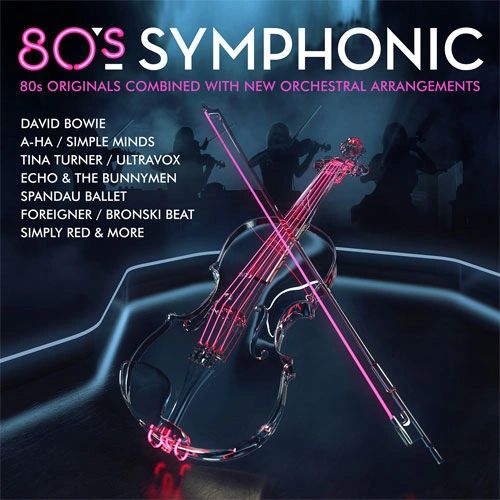 80S SYMPHONIC 2LP
Reimagined '80s Hits With Symphonic Orchestra On Double LP!
80's SYMPHONIC combines the original classic tracks of 15 iconic 80s tracks from David Bowie, a-ha, Foreigner, Simple Minds, The Cars, Simply Red, Tina Turner, Pretenders, Ultravox and more with brand new symphonic and string arrangements performed by the 50 piece London Studio Orchestra creating brand unique versions of these timeless tracks like you've never heard before.
The songs on 80's Symphonic have collectively sold over 20 million copies and have been number one hits in over 20 countries.
The brand new orchestrations for the album are the work of producer and arranger Andy Wright, who has worked with Simple Minds, Eurythmics, Simply Red, Jeff Beck, Massive Attack to name but a few.
Features:
• Double LP
• Gatefold jacket
Musicians:
London Studio Orchestra 
Selections:
Side One:
1. David Bowie - Let's Dance
2. A-ha - Take On Me
3. Simple Minds - Alive And Kicking
Side Two:
1. Ultravox - Vienna
2. Echo & The Bunnymen - The Killing Moon
3. Bronski Beat - Smalltown Boy
4. Howard Jones - What Is Love?
Side Three:
1. Tina Turner - What's Love Got To Do With It
2. Simply Red - Holding Back The Years
3. Chris Rea - Josephine
4. Chicago - Hard Habit To Break
Side Four:
1. Roxette - It Must Have Been Love
2. Foreigner - I Want To Know What Love Is
3. The Cars - Drive
4. Pretenders - 2000 Miles