AUDIO RESEARCH VSi 75 INTEGRATED AMPLIFIER (CALL FOR ORDER)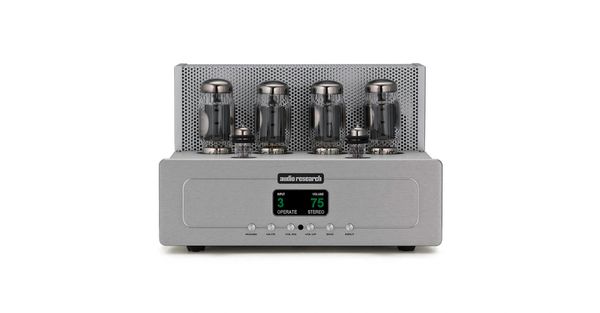 AUDIO RESEARCH VSi 75 INTEGRATED AMPLIFIER (CALL FOR ORDER)
The VSi75 integrated amplifier breaks new ground in an 'all in one' product design, and sets a new benchmark in the lifelike reproduction of music. The VSi75 continues the design series of 'open chassis' products from Audio Research such as the VSi60 and VS115, yet incorporates new developments from the Reference series product to combine in a visually striking and sonically astonishing product.

Specifications:
POWER OUTPUT 
75 watts per channel continuous from 20Hz to 20kHz. 1 kHz total harmonic distortion typically 1.5% at 75 watts, .05% at 1 watt. Approximate actual power available at "clipping" 80 watts (1kHz). (Note that actual power output is dependent upon both line voltage and "condition" i.e. if power line has high distortion, maximum power will be affected adversely, although from a listening standpoint this is not very critical.)

INPUTS 
(5) 1, 2, 3, 4, 5 (Single Ended RCA connectors).

TUBES REQUIRED 
2-Matched pair KT150-Power Output; 2 -6H30 driver.

WEIGHT 
36.4 lbs. (16.5 kg) Net; 49.3 lbs. (22.4 kg) Shipping.
220V