BEATLES LET IT BE (SPECIAL EDITION) HALF SPEED MASTERED 180G 4LP & 45RPM 12" VINYL EP BOX SET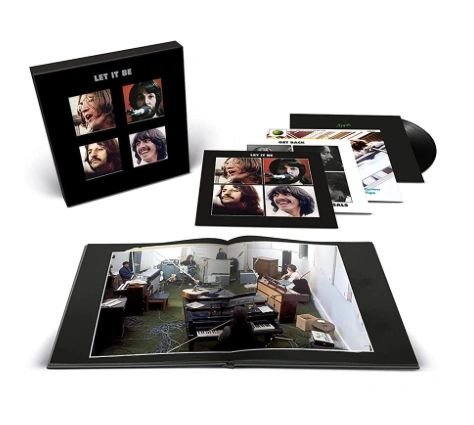 BEATLES LET IT BE (SPECIAL EDITION) HALF SPEED MASTERED 180G 4LP & 45RPM 12" VINYL EP BOX SET
Format: 33RPM with 45rpm 12" EP
Release Date: October 15, 2021
Super Deluxe Half-Speed Mastered 180g 4LP & 45rpm 12" Vinyl EP Box Set!
With 27 Unreleased Session Recordings!
1969 Unreleased 14-Track Get Back LP Mix by Glyn Johns!
Includes 100-Page Hardback Book!
Rolling Stone 500 Greatest Albums of All Time - Rated 392/500!
4-Track Let It Be 45rpm 12" Vinyl EP
Half-Speed Mastered at Abbey Road
Newly mixed by Giles Martin & Sam Okell
New stereo mix guided by original "reproduced for disc" version by Phil Spector
Sourced directly from the original session & rooftop performance 8-track tapes
27 previously unreleased outtakes, studio jams & rehearsals
Previously unreleased 1969 Get Back LP mix by Glyn Johns, newly remastered
Glyn Johns' unreleased 1970 mixes: "Across The Universe" & "I Me Mine"
Giles Martin & Sam Okell's new stereo mixes: "Don't Let Me Down" & "Let It Be" singles
100-page hardback book with intro by Paul McCartney
Track-by-track recording information
Unseen photos, notes & more
12.5" x 12.5" die-cut slipcase
LP One - New Mix Of Original Album
The Long And Winding Road
LP Two - Get Back: Apple Sessions
Morning Camera (Speech)* / Two Of Us (Take 4)
Maggie Mae / Fancy My Chances With You*
I Don't Know Why I'm Moaning (Speech)*
Let It Be / Please Please Me / Let It Be (Take 10)
I've Got A Feeling (Take 10)
Like Making An Album? (Speech)
Don't Let Me Down (First Rooftop Performance)
The Long And Winding Road (Take 19)
Wake Up Little Susie / I Me Mine (Take 11)
LP Three - Get Back: Rehearsals And Apple Jams
On The Day Shift Now (Speech)* / All Things Must Pass (Rehearsals)*
Concentrate On The Sound*
Gimme Some Truth (Rehearsal)*
She Came In Through The Bathroom Window (Rehearsal)
Polythene Pam (Rehearsal)*
Octopus's Garden (Rehearsal)*
Without A Song (Jam - Billy Preston With John And Ringo)
LP Four - Get Back LP: 1969 Glyn Johns Mix
Medley: I'm Ready (AKA Rocker) / Save The Last Dance For Me / Don't Let Me Down
The Long And Winding Road
12" Vinyl EP - Let It Be EP
Across The Universe (Unreleased Glyn Johns 1970 Mix)
I Me Mine (Unreleased Glyn Johns 1970 Mix)
Don't Let Me Down (New Mix Of Original Single Version)
Let It Be (New Mix Of Original Single Version)