BLACK KEYS BROTHERS 2LP ANNIVERSARY EDITION 2LP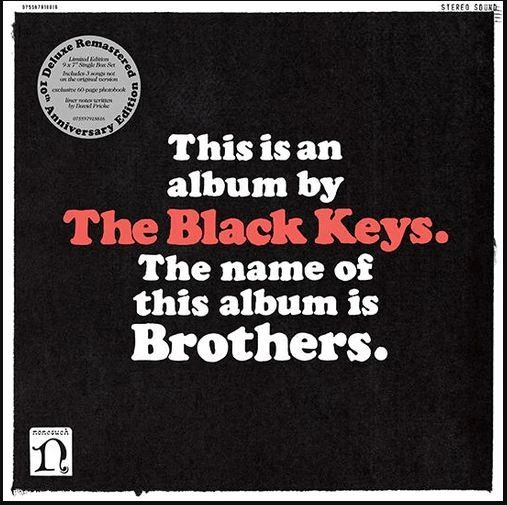 BLACK KEYS BROTHERS 2LP ANNIVERSARY EDITION 2LP
Deluxe Remastered 10th Anniversary Edition Double LP!
Including 2 Previously Unreleased Tracks!
Genre: Pop Rock
Label: Nonesuch
Format: 33RPM,
Release Date: December 18, 2020
This is the Deluxe Anniversary Edition celebrating the album's 10th anniversary. This new LP version has been fully remastered and contains two previously unavailable tracks. Additionally the gatefold package contains new liner notes written by David Fricke as well as previously unseen photos.
Features
10th Anniversary Deluxe Edition
Double LP
140g Vinyl
Remastered
3 Bonus Tracks including 2 previously unreleased songs
12" vinyl tip-on gatefold double-pocket album jacket
New liner notes by David Fricke
Insert with photos
Made in Canada
Selections
Side A:
Everlasting Light
Next Girl
Tighten Up
Howlin' For You
She's Long Gone
Side B:
Black Mud
The Only One
Too Afraid To Love You
Ten Cent Pistol
Side C:
Sinister Kid
The Go Getter
I'm Not The One
Unknown Brother
Side D:
Never Gonna Give You Up
These Days
Chop And Change (Bonus Track) - Previously released on The Twilight Saga: Eclipse (Original Motion Picture Soundtrack)
Keep My Name Outta Your Mouth (Bonus Track) - Previously Unreleased
Black Mud Part II (Bonus Track) - Previously Unreleased