BON JOVI THE MANY FACES OF BON JOVI LIMITED EDITION 180G 2LP COLORED VINYL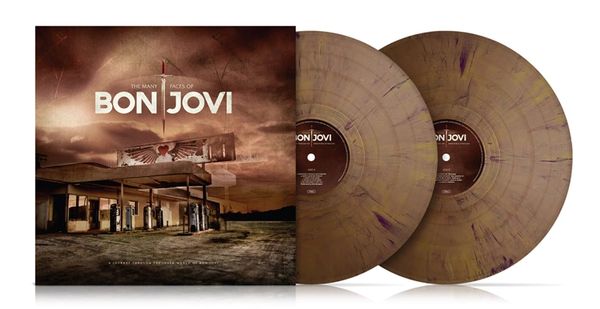 BON JOVI THE MANY FACES OF BON JOVI LIMITED EDITION 180G 2LP COLORED VINYL
For more than three decades, Bon Jovi has used great hooks, epic-sounding productions and stadium-sized passion to forge a sound that combines a pop sensibility with a heavy-metal attitude. They ended transcending the big-haired '80s, withstanding changes in style and sound to become one of the biggest American rock bands of their time; selling over 120 million albums In The Many Faces of Bon Jovi, we will present the work of their two main members, Jon Bon Jovi and Richie Sambora before they would join forces and also, we will review their massive hit-making catalog with revamped versions from members of some of the most popular bands from the '80s.
The Many Faces Of Bon Jovi is a fantastic album that showcases the work of one of the most admired hard-rock bands of our time.With fantastic artwork and remastered sound this is a new release to expand our collection of The Many Faces in vinyl format.
Genre: Rock
Label: Music Brokers
Format: 33RPM
01. Who Said It Would Last Forever - John Bongiovi
02. Don't Leave Me Tonight - John Bongiovi
03. Open Your Heart - John Bongiovi
04. Talkin' In Your Sleep - John Bongiovi
05. No One Does It Like You - John Bongiovi
01. Come Saturday Night - Richie Sambora & Bruce Foster
02. Live Fast, Love Hard, Die Young - Richie Sambora & Bruce Foster
03. The Ones With Angel Eyes - Richie Sambora & Bruce Foster
04. Southern Belle - Richie Sambora & Bruce Foster
05. I Need Your Love - Richie Sambora & Bruce Foster
01. Livin' On A Prayer - Derrick LeFevre
02. Bad Medicine - Born Again
03. Blazy Of Glory - Richard Kendrick
04. I'll Be There For You - Jasy Andrews
05. You Give Love A Bad Name - Corey Craven
01. It's My Life - The Issues
02. Wanted Dead Or Alive - Tony Janglone Jr.
03. Born To Be My Baby - Medicine X
04. Never Say Goodbye - Andrew Walker