CHARLES MINGUS MINGUS AH UM 180G 45RPM 2LP BOX SET ULTRADISC ONE-STEP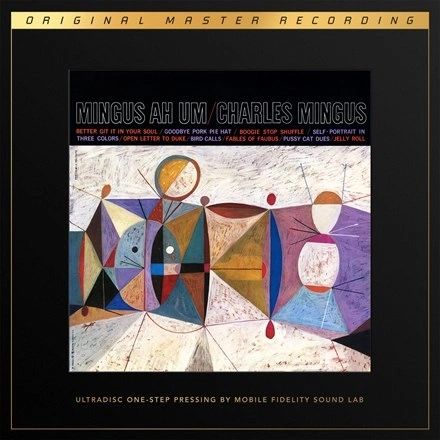 CHARLES MINGUS MINGUS AH UM 180G 45RPM 2LP BOX SET ULTRADISC ONE-STEP
180-gram 45 RPM 2LP Ultradisc One-Step from Mofi!
Strictly limited to 6,000 numbered copies
The ultimate version of Charles Mingus' landmark 1959 album!
"Better Git It in Your Soul" not only serves as the name of the inviting, holler-appointed opening track of Charles Mingus' Mingus Ah Um. It epitomizes the spirit, urgency, freedom, and feel-it-in-your-bones passion of an album that — along with Miles Davis' Kind of Blue, Dave Brubeck's Time Out, and John Coltrane's Giant Steps — forms the Mount Rushmore of quintessential records from 1959-1960, jazz's watershed graduating class. Indeed, Mingus Ah Um is cited on practically every "greatest" list assembled and enjoys the rare distinction of wearing a prestigious crown in the Penguin Guide to Jazz and membership in the Grammy Hall of Fame. Now, it receives the highest sonic treatment available in the form of a reissue worthy of its preeminent creative stature.
1. Better Git It in Your Soul
4. Self-Portrait in Three Colors