DUKE ELLINGTON MASTERPIECES BY DUKE ELLINGTON 200G 45RPM 2LP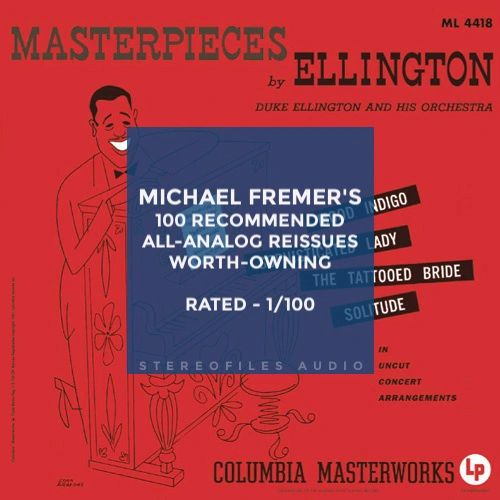 DUKE ELLINGTON MASTERPIECES BY DUKE ELLINGTON 200G 45RPM 2LP
Michael Fremmer's 100 Recommended All-Analog LP Reissues Worth Owning 1/100!
A historic record - recorded just four years removed from the dawn of the analog tape era!
Masterpieces By Ellington shines from an astonishingly brief period of history that gave the recording industry two of its greatest achievements — the introduction of magnetic tape recording and the 33 1/3 LP, or long-playing record.
Features:
• 45rpm 200g Vinyl
• Double LP
• Pressed at QRP
• Mastered from original analog tapes
• Mastered by Ryan Smith at Sterling Sound 
• Gatefold old-school 'tip-on' jacket by Stoughton
Musicians:
Duke Ellington, piano
Billy Strayhorn, piano
Russel Procope, saxophone
Paul Gonzalves, saxophone
Johnny Hodges, saxophone
Jimmy Hamilton, saxophone
Nelson Williams, trumpet
Andrew Ford, trumpet
Harold Baker, trumpet
Ray Nance, trumpet
William Anderson, trumpet
Quentin Jackson, trombone
Lawrence Brown, trombone
Tyree Glenn, trombone
Mercer Ellington, horn
Sonny Greer, drums
Wendell Marshall, bass
Yvonne, vocals
Selections:
1. Mood Indigo
2. Sophisticated Lady
3. The Tattooed Bride
4. Solitude