EAGLES LIVE FROM THE FORUM MMXVIII 180G 4LP BOX SET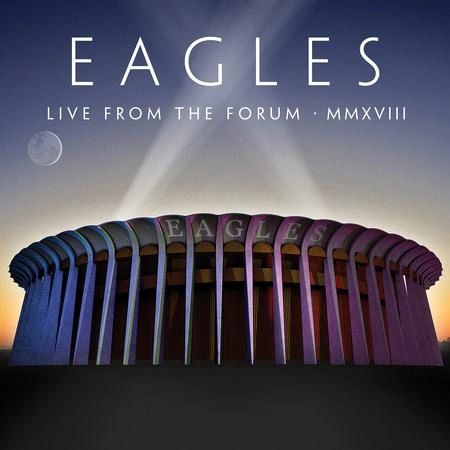 EAGLES LIVE FROM THE FORUM MMXVIII 180G 4LP BOX SET
26-Song Performance Recorded Live Over 3 Nights In 2018 On 180g Vinyl 4LP!
Genre: Pop Rock
Label: Rhino
Format: 33RPM,4LP Boxset
Release Date: October 16, 2020
LIVE FROM THE FORUM MMXVIII captures definitive live performances of the band's most iconic hits ("Hotel California", "Take It Easy", "Life In The Fast Lane", "Desperado") and beloved album tracks ("Ol' 55", "Those Shoes"), along with some of the individual members' biggest solo smashes (Don Henley's "Boys Of Summer", Vince Gill's "Don't Let Our Love Start Slippin' Away", Joe Walsh's "Rocky Mountain Way").
Features
180g Vinyl
4LP
Recorded live at The Forum in Los Angeles, September 12, 14 & 15, 2018
Selections
LP 1
SIDE 1:
Seven Bridges Road
Joe Walsh: "How ya doin'?"
Take It Easy
One Of These Nights
Don Henley: "Good evening, ladies and gentlemen"
Take It To The Limit
SIDE 2:
Tequila Sunrise
In The City
Timothy B. Schmit: "Hey, everybody, that's Joe Walsh"
I Can't Tell You Why
LP 2
SIDE 3:
New Kid In Town
Don Henley: "Just want to thank all of you..."
How Long
Deacon Frey: "Hello, everybody..."
Peaceful Easy Feeling
Ol' 55
SIDE 4:
Lyin' Eyes
Love Will Keep Us Alive
Vince Gill: "How's everybody doing?"
Don't Let Our Love Start Slippin' Away
LP 3
SIDE 5:
Those Shoes
Already Gone
Walk Away
Joe Walsh: "Is everybody OK?"
SIDE 6:
Life's Been Good
The Boys Of Summer
Heartache Tonight
LP 4
SIDE 7:
Funk #49
Life In The Fast Lane
Hotel California
SIDE 8:
Rocky Mountain Way
Desperado
The Long Run