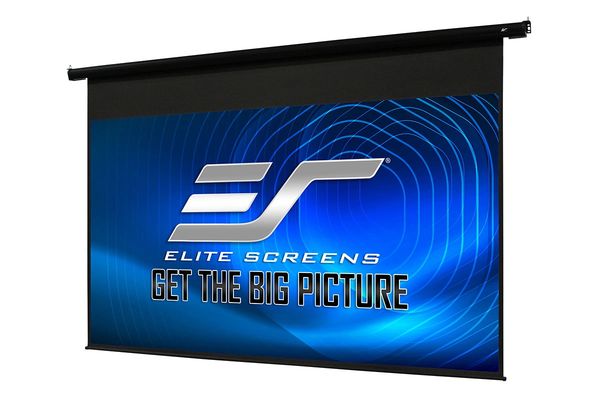 ELITE SCREENS SPECTRUM
Elite Screens Spectrum Series is a versatile electric motorized screen that fits perfectly in either residential or commercial wall/ceiling applications. Its MaxWhite® 1.1 gain projection material displays a bright picture regardless of viewing angle. Infrared and Ethernet control package included along with a 1-year manufacturer's warranty.
MaxWhite® screen material is the most versatile screen surface for front projection presentations. This material provides the widest possible viewer angles with perfect diffusion uniformity while giving precise definition, image color reproduction and black & white contrast. Recommended for rooms with controlled lighting. Works with Standard, 1080P/4K projectors.
MaxWhite® material is durable and easy to clean180° wide viewing angle with 1.1 gainActive 3D, 4K Ultra HD, and HDR Ready
Durable casing for wall/ceiling installationsIncludes wood screws and drywall anchorsBubble leveler includedShips fully assembled with 3-prong power connection ready to plug & playOptional in-ceiling trim kit and 6" and 12" L brackets - sold separately
Infrared (IR) remote controlDetachable 3-way wall UP/STOP/DOWN switchBuilt-in 5-12 volt trigger port enables Drop/Rise operation to synchronize with the projector's power cycle12 Volt Trigger Cable includedLow-voltage internal IR ReceiverRJ45 input port allows easy integration with 3rd party control systemsOptional RF Remote, wireless 5-12 volt trigger, Universal 5-12 volt trigger (for projectors that don't have a trigger ouput port) and In-wall switch - sold separately
Synchronous motor allows silent operation with extended operational longevity and low power consumption (84" - 128" models)Tubular motor allows swift operation and speed (142" models and above)Certified by AMX and CRESTRONAcousticPro UHD: Flame Retardant: Complies with NFPA 701 StandardsConforms to ANSI/UL STD. 60950-1Certified to CAN/CSA STD. C22.2