ENNIO MORRICONE COLLECTED 180G 2LP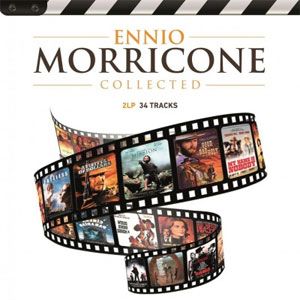 ENNIO MORRICONE COLLECTED 180G 2LP
Definitive Journey Through the Work of Ennio Morricone on Double 180g Vinyl!
Genre: Original Sountrack
Label: Music On Vinyl
Format: 33RPM 2LP
Date Released: April 10, 2014
Ennio Morricone composed and arranged scores for more than 500 film and television productions, making him one of the most influential and best-selling film composers since the late 1950s. He has sold well over 70 million records worldwide. His score for Sergio Leone's Once Upon A Time In The West is one of the top 5 best-selling original instrumental scores in the world today, with about 10 million copies sold.
Collected is a definitive journey through the vast work of Morricone, stopping by landmark spaghetti westerns like A Fistful Of Dollars, For A Few Dollars More, The Good The Bad & The Ugly, Once Upon A Time In America and most recently, Quentin Tarantino's Django Unchained.
1. The Fascist (Theme) From the movie 'The Fascist'
2. A Fistful Of Dollars (Theme) From the movie 'A Fistful Of Dollars'
3. Bullets Don't Argue (Theme) From the movie 'Bullets Don't Argue'
4. A Gun For Ringo (Theme) From the movie 'A Gun For Ringo'
5. For A Few Dollars More (Theme) From the movie 'For A Few Dollars More'
6. The Return Of Ringo (Main Title) From the movie 'The Return Of Ringo'
7. The Battle Of Algiers (Theme) From the movie 'Battle Of Algiers'
8. The Good, The Bad And The Ugly (Theme) From the movie 'The Good, The Bad And The Ugly'
9. The Ecstasy Of Gold From the movie 'The Good, The Bad And The Ugly'
10. Death Rides A Horse (Theme) From the movie 'Death Rides A Horse'
11. The Big Gundown (Opening Song) From the movie 'The Big Gundown'
1. Once Upon A Time In The West (Theme) From the movie 'Once Upon A Time In The West'
2. The Man With The Harmonica From the movie 'Once Upon A Time In The West'
3. Long Live The Revolution From the movie 'Long Live The Revolution' aka 'Blood And Guns'
4. The Ballad Of Hank McCain From the movie 'Machine Gun McCain'
5. The Sicilian Clan (Theme) From the movie 'The Sicilian Clan'
6. Investigation Of A Citizen Above Suspicion From the movie 'Investigation Of A Citizen Above Suspicion'
7. A Fistful Of Dynamite From the movie 'A Fistful Of Dynamite'
1. Come Maddalena From the movie 'Maddalena'
2. Chi Mai From the movie 'Maddalena'
3. My Name Is Nobody From the movie 'My Name Is Nobody'
4. The Infernal Trio From the movie 'The Infernal Trio'
5. Romanzo From the movie 'Novecento' aka '1900'
6. Goodbye Palermo From the movie 'Father Of The Godfathers'
7. Don't Play The Indian From the movie 'Buddy goes West'
1. Il Vento, Il Grido From the movie 'The Professional'
2. Tragedy of a Ridiculous Man (Theme) From the movie 'Tragedy of a Ridiculous Man'
3. Deborah's theme From the movie 'Once Upon A Time In America'
4. Gabriel's Oboe From the movie 'The Mission'
5. The Untouchables (End Title) From the movie 'The Untouchables'
6. The Strength Of The Righteous (Main Title) From the movie 'The Untouchables'
7. Cinema Paradiso (Theme) From the movie 'Cinema Paradiso'
8. Love Theme From the movie 'Cinema Paradiso'
9. Ancora Qui (Elisa Toffoli) From the movie 'Django Unchained'