GEORGE HARRISON ALL THINGS MUST PASS 180G 5LP BOX SET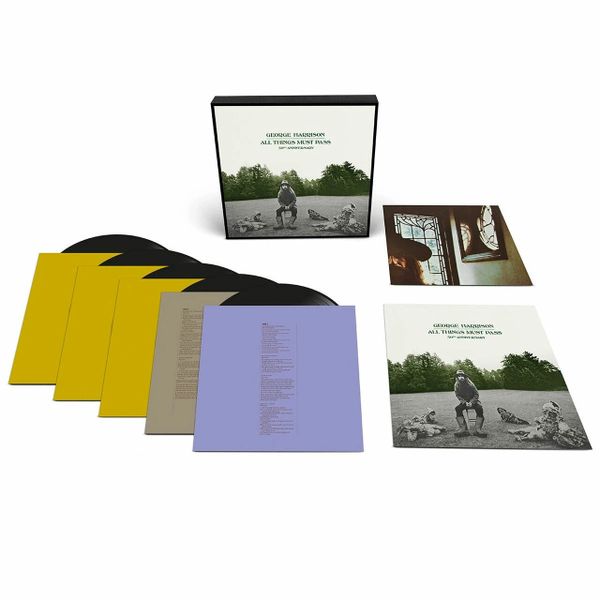 GEORGE HARRISON ALL THINGS MUST PASS 180G 5LP BOX SET
Genre: Pop Rock
Brand: Capitol
Format: 33RPM,
Release Date:
50th Anniversary Deluxe 180g Vinyl 8LP Box Set!
New Mix By Grammy-Winner Paul Hicks!
2LPs Of Demos, Outtakes & Studio Jams!
In celebration of the 50th Anniversary, George Harrison's, All Things Must Pass, is being celebrated with a suite of new releases highlighted by a stunning new mix of the classic album by Grammy Award-winning mixer/engineer Paul Hicks, overseen by executive producer Dhani Harrison. The 3LP's (180g) are contained in a slim box, including a poster and an 8-page insert with photos and notes from Dhani Harrison and Paul Hicks on remixing the album.
Features
50th Anniversary Box Set
5LP
180g Vinyl
New Mix by Paul Hicks
Overseen by Executive Producer Dhani Harrison
Slim Box
8-Page Insert - Photos & Notes from Dhani Harrison & Paul Hicks
Made in Czech Republic
Selections
All Things Must Pass
SIDE 1:
I'd Have You Anytime
My Sweet Lord
Wah-Wah
Isn't It A Pity (Version One)
SIDE 2:
What Is Life
If Not For You
Behind That Locked Door
Let It Down
Run Of The Mill
SIDE 3:
Beware Of Darkness
Apple Scruffs
Ballad Of Sir Frankie Crisp (Let It Roll)
Awaiting On You All
All Things Must Pass
SIDE 4:
I Dig Love
Art Of Dying
Isn't It A Pity (Version Two)
Hear Me Lord
SIDE 5:
Out Of The Blue
It's Johnny's Birthday
Plug Me In
SIDE 6:
I Remember Jeep
Thanks For The Pepperoni
Session Outtakes And Jams
SIDE 1:
Isn't It A Pity - Take 14
Wah-Wah - Take 1
I'd Have You Anytime - Take 5
Art Of Dying - Take 1
SIDE 2:
Isn't It A Pity - Take 27
If Not For You - Take 2
Wedding Bells (Are Breaking Up That Old Gang Of Mine) - Take 1
What Is Life - Take 1
Beware Of Darkness - Take 8
SIDE 3:
Hear Me Lord - Take 5
Let It Down - Take 1
Run Of The Mill - Take 36
Down To The River (Rocking Chair Jam) - Take 1
SIDE 4:
Get Back - Take 1
Almost 12 Bar Honky Tonk - Take 1
It's Johnny's Birthday - Take 1
Woman Don't You Cry For Me - Take 5