JESUS CHRIST SUPERSTAR OST LIVE IN CONCERT 180G 2LP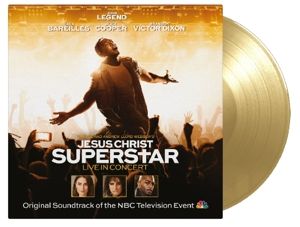 JESUS CHRIST SUPERSTAR OST LIVE IN CONCERT 180G 2LP
From executive producers Andrew Lloyd Webber, Tim Rice, Marc Platt, Craig Zadan and Neil Meron comes NBC's live musical, the groundbreaking rock opera Jesus Christ Superstar Live in Concertstarring John Legend as Jesus, Alice Cooper as Herod and Sara Bareilles as Mary Magdalene along with Tony nominee Brandon Victor Dixon (Hamilton) as Judas Iscariot.
3. WHAT'S THE BUZZ / STRANGE THING MYSTIFYING
1. SIMON ZEALOTES / POOR JERUSALEM
4. EVERYTHING'S ALRIGHT (REPRISE)
5. I DON'T KNOW HOW TO LOVE HIM
6. DAMNED FOR ALL TIME / BLOOD MONEY
2. GETHSEMANE (I ONLY WANT TO SAY)
8. TRANSITION AFTER HEROD
1. COULD WE START AGAIN, PLEASE?
(INCLUDING THE 39 LASHES)
6. JOHN NINETEEN:FORTY-ONE