JIMI HENDRIX EXPERIENCE ELECTRIC LADYLAND 50TH ANNIVERSARY 180G 6LP & 1 BLU-RAY BOX SET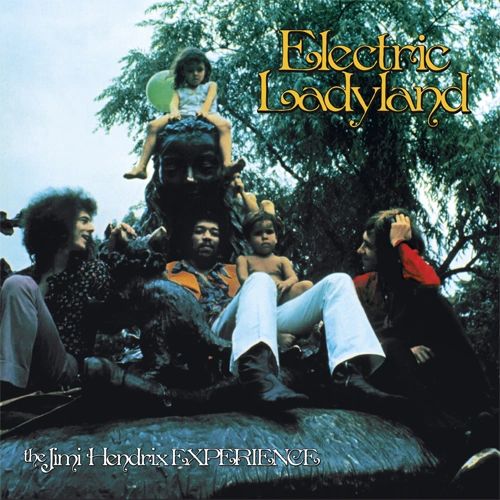 JIMI HENDRIX EXPERIENCE ELECTRIC LADYLAND 50TH ANNIVERSARY 180G 6LP & 1 BLU-RAY BOX SET
Michael Fremer's 100 Recommended All-Analog LP Reissues Worth Owning - Rated 99/100!
TAS Rated 5/5 Music, 4/5 Sonics in the February 2019 Issue of The Absolute Sound!
Numbered, Limited Edition 50th Anniversary Deluxe Edition 180g Vinyl 6LP & Blu-Ray Box Set!
All Analog Mastering From The Original 2-Track Master Tapes! Pressed at QRP!
Rolling Stone 500 Greatest Albums of All Time - Rated 55/500!
• 50th Anniversary Deluxe Edition Box Set
• Numbered, Limited Edition
• 180g Vinyl Pressed at Quality Record Pressings
• LP 1 & 2: Original double album, newly remastered by Bernie Grundman from original analog tapes
• LP 3 & 4: 20 never before heard demos and studio outtakes
• LP 5 & 6: Never before released recording Jimi Hendrix Experience: Live At The Hollywood Bowl 9/14/68
• Blu-Ray: Full-length documentary At Last...The Beginning: The Making Of Electric Ladyland, fully restored with almost 40 minutes of additional content not seen in the original feature
• Blu-Ray: New 5.1 surround sound mix of entire original album by original Hendrix engineer Eddie Kramer plus original stereo mixes in uncompressed 24 bit/96kHz high resolution audio
• 48-page full-color book containing Jimi's handwritten lyrics, poem and instructions to record label plus never before published photos
• Luxe casemade lift top box with new cover art true to Hendrix's original vision, a photograph shot by Linda Eastman (McCartney)
• Authorized Hendrix Family Edition
1. … And The Gods Made Love
2. Have You Ever Been (To Electric Ladyland)
3. Come On (Let The Good Times Roll)
5. Burning Of The Midnight Lamp
2. 1983…(A Merman I Should Turn To Be)
3. Moon, Turn The Tides…Gently Gently Away
1. Still Raining, Still Dreaming
3. All Along The Watchtower
4. Voodoo Child (Slight Return)
The Making Of Electric Ladyland: The Early Takes
1. 1983…(A Merman I Should Turn To Be)
4. Hear My Train A Comin'
4. Long Hot Summer Night [Demo 1]
5. Long Hot Summer Night [Demo 3]
6. Long Hot Summer Night [Demo 4]
7. Snowballs At My Window
1. And The Gods Made Love (At Last...The Beginning)
4. Long Hot Summer Night [Take 1]
5. Long Hot Summer Night [Take 14]
3. 1983...(A Merman I Should Turn To Be)
Live At The Hollywood Bowl
3. Voodoo Child (Slight Return)
At Last…The Beginning: The Making Of Electric Ladyland
1. At Last… The Beginning: The Making Of Electric Ladyland documentary
2. Electric Ladyland Uncompressed LPCM Stereo 24b/96k
3. Electric Ladyland Uncompressed LPCM 5.1 Surround 24b/96k
4. Electric Ladyland DTS-HD Master Audio 5.1 Surround 24b/96k