JOHN WILLIAMS STAR WARS: THE FORCE AWAKENS SOUNDTRACK DIRECT METAL MASTER 180G 2LP (3D HOLOGRAPHIC VERSION)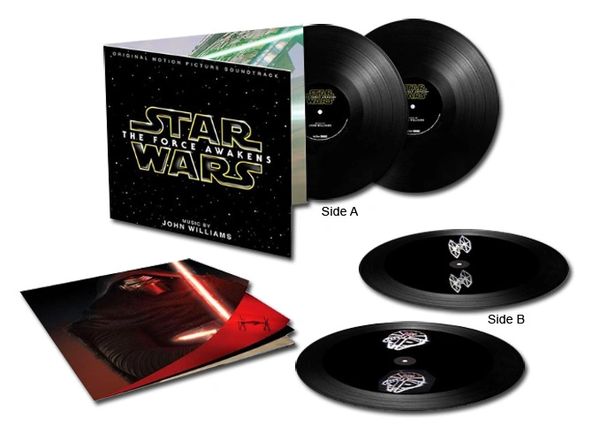 JOHN WILLIAMS STAR WARS: THE FORCE AWAKENS SOUNDTRACK DIRECT METAL MASTER 180G 2LP (3D HOLOGRAPHIC VERSION)
Score To Blockbuster Film On Limited Edition 3D Holographic 180g Vinyl Double LP!

The soundtrack to the blockbuster hit Star Wars: The Force Awakens features a score by five-time Academy Award winning composer, John Williams. 

The Limited Edition Collectible 180g Double LP release includes the score from the film. Immerse yourself in a one-of-a-kind holographic experience featuring the Millennium Falcon on disc 1 and Tie Fighter on disc 2!
Features:
• 180g Vinyl
• Double LP
• Direct Metal Master
• 3D Holographic images 
• Disc 1: Millennium Falcon
• Disc 2: Tie Fighter
• Holograms hand-etched by Tristan Duke of Infinity Light Science

Selections:
1. Main Title and The Attack On the Jakku Village
2. The Scavenger
3. I Can Fly Anything
4. Rey Meets BB-8
5. Follow Me
6. Rey's Theme
7. The Falcon
8. That Girl with the Staff
9. The Rathtars!
10. Finn's Confession
11. Maz's Counsel
12. The Starkiller
13. Kylo Ren Arrives At the Battle
14. The Abduction
15. Han and Leia
16. March of the Resistance
17. Snoke
18. On the Inside
19. Torn Apart 
20. The Ways of The Force
21. Scherzo for X-Wings
22. Farewell and The Trip
23. The Jedi Steps and Finale