JULIE LONDON JULIE IS HER NAME, LONELY GIRL & CALENDAR GIRL 180G 2LP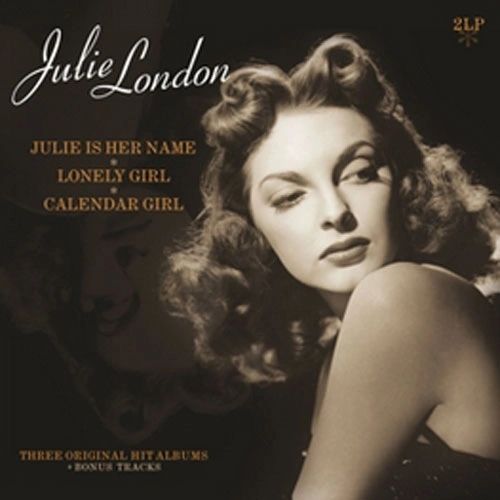 JULIE LONDON JULIE IS HER NAME, LONELY GIRL & CALENDAR GIRL 180G 2LP
Three Jazz/Pop Standard Albums Released on 180g Double LP! Includes Bonus Tracks!
Julie London ( September 26, 1926 – October 18, 2000) was an American nightclub, jazz and pop singer, film and television actress and a former
pinup model, whose career spanned five decades of television. She was noted for her smoky, sensual husky voice and languid demeanor. She released 32 albums of pop and jazz standards during the 1950s and 1960s, with her signature song being the classic "Cry Me a River", which she introduced in 1955. "Julie Is Her Name" was the first LP album by Julie
London (1955). The album featured Barney Kessel on guitar and Ray Leatherwood on bass. "Lonely Girl" was stripped down even more on the album by dropping the backing down to one instrument. Lone guitarist Al Viola plays gentle Spanish-tinged acoustic behind the hushed vocalist, and it suits London perfectly. "Calender Girl" was London's next release and should be the first a cappella torch album, Troup crafted Calendar Girl, a big-budget orchestral affair that was more in keeping with the thematic pop albums released at the time.
3. I'm In The Mood For Love
5. Can't Help Lovin' Dat Man
8. It Never Entered My Mind
7. I Lost My Sugar In Salt Lake City
8. It's The Talk Of The Town
10. When Your Lover Has Gone
11. Don't Take Your Love From Me
10. Sometimes I Feel Like A Motherless Child
2. Feburary Brings The Rain
5. People Who Are Born In May