MCINTOSH MT2 PRECISION TURNTABLE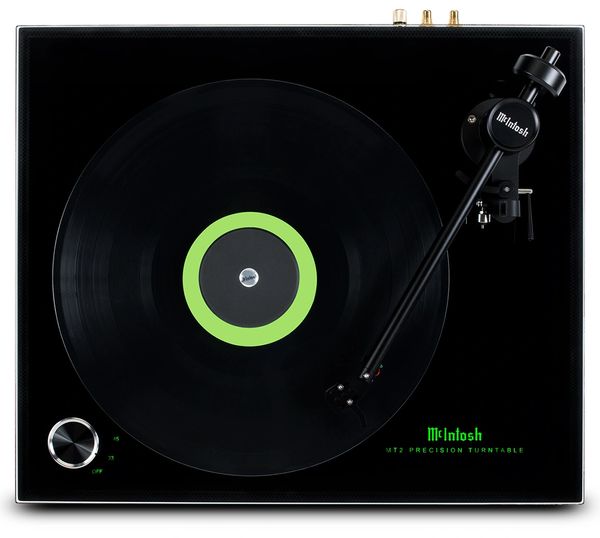 MCINTOSH MT2 PRECISION TURNTABLE
The MT2 comes with a moving coil cartridge that has a high enough output to make it compatible with not only moving coil phono inputs but also moving magnet inputs. The cartridge's high impedance and high output voltage ensures noise free musical reproduction. This unique cartridge design features an alloy cantilever and an elliptical diamond stylus with exceptional tracking capability. The tonearm is constructed from dural-aluminum with special damping materials and is light weight yet highly rigid. The noise free vertical bearings feature two precision ceramic surfaces with damping fluid; the horizontal bearing is a gimballed sapphire design.
CARTRIDGE SPECIFICATIONS
Cartridge Type: Moving Coil, High Output
Output Level: 2.5 mV at 5 cm/s
Load Impedance: 1000 Ohms recommended (Preamp MC Input)
Frequency Response: 20Hz to 50kHz
Channel Separation: 35dB at 1kHz
Compliance: 15 x 10-6 cm/dyne
Recommended Tracking Force: 2.0 g
Channel Difference: Less than 0.5dB at 1kHz
Total Mass: 6.3 g
Stylus: Elliptical Diamond
Cantilever Material: Aluminum
TONEARM SPECIFICATIONS
Bearing: Sapphire and Ceramic
Arm Tube: Dural-Aluminum
Counterweight: Eccentric
Adjustments: Vertical Tracking Angle, Antiskate, Azimuth
TURNTABLE SPECIFICATIONS
Playback Speeds: 33-1/3 and 45 rpm
Motor Type: DC Motor with Stainless Steel Brushes
Speed Control: Servo System
Platter: Dynamically balanced polyoxymethylene (POM)
Platter Bearing: Polished and tempered steel shaft in sintered bronze bushings
Signal To Noise Ratio: 35dB - 40dB
Wow & Flutter: 0.15% - 0.25%
WEIGHTS & DIMENSIONS
Unit Dimensions (W x H x D) :17-13/16" (45.2cm) x 5" (12.7cm) (6" (15.2cm) with dust cover) x 17" (43.2cm)
Note: Tone Arm Height will vary depending on the type of Cartridge installed.
Unit Weight: 29 lbs (13.2 kg)
Shipping Weight: 39 lbs (17.6 kg)