MILES DAVIS THE COMPLETE COOKIN' SESSIONS 4LP BOX SET COLOURED VINYL BLACK FRIDAY RELEASE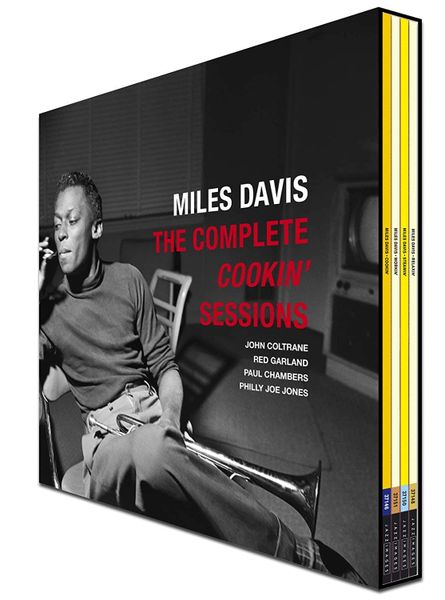 MILES DAVIS THE COMPLETE COOKIN' SESSIONS 4LP BOX SET COLOURED VINYL BLACK FRIDAY RELEASE
Genre: Jazz
Label: Jazz Track
Format: 33RPM,
Release Date: November 26, 2021
Complete Cookin' Sessions is an album by Miles Davis, released in 2021. The album is a Black Friday, Coloured Vinyl, High Quality jazz 4-LP.
Miles Davis' association with tenor saxophonist John Coltrane between 1955 and 1961 produced some of the most wonderful recordings in jazz history. This set compiles all of the quintet recordings made during two marathon studio sessions (also featuring Red Garland on piano, Paul Chambers on bass, and Philly Joe Jones on drums) on May 11 and October 26, 1956. 
Playlist:
Cookin '
Side A:
A1 My Funny Valentine 6:01
A2 Blues By Five 10:00
A3 Just Squeeze Me (Bonustrack) 7:31 
Side B:
B1 Airegin 4:27
B2 Tune Up 5:44
B3 When Lights Are Low 7:29
B4 S'posin '(Bonustrack) 5:19
Workin '
Side C:
A1 It Never Entered My Mind 5:23
A2 Four 7:13
A3 In Your Own Sweet Way 5:42
A4 The Theme 1:58
A5 All Of You 7:01 
Side D:
B1 Trane's blues 8:32
B2 Ahmad's Blues 7:24
B3 Half Nelson 4:45
B4 The Theme 1:04
B5 'round Midnight 5:21
Relaxin '
Side E:
A1 If I Were A Bell 8:08
A2 You're My Everything 4:50
A3 I Could Write A Book 5:11
A4 How Am I To Know 4:44 
Side F:
B1 Oleo 5:53
B2 It Could Happen To You 6:40
B3 Woody'n You 5:03
B4 Stablemates 5:28
Steamin '
Side G:
A1 Surrey With The Fringe On Top 9:09
A2 Salt Peanuts 6:09
A3 Something I Dreamed Last Night 6:18
A4 There Is No Greater Love 5:24 
Side H:
B1 Diane 7:51
B2 Well You Needn't 6:19
B3 When I Fall In Love 4:26
B4 The Theme 5:54