MUSIC HALL CLASSIC TURNTABLE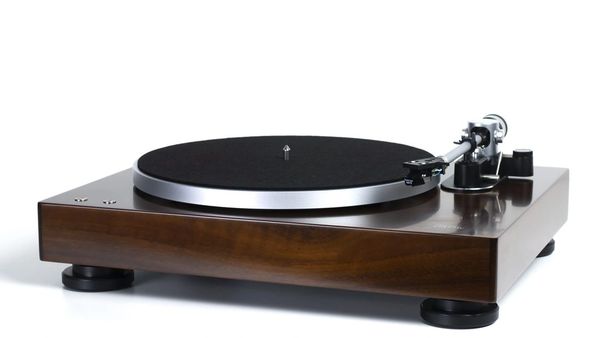 MUSIC HALL CLASSIC TURNTABLE
INSPIRED BY TURNTABLES OF THE PAST, BUILT WITH THE BEST OF TODAY'S TECHNOLOGY. THE MUSIC HALL CLASSIC TURNTABLE FEATURES A BUILT-IN PHONO PREAMP & PHONO CARTRIDGE, SEMI-AUTOMATIC OPERATION (AUTO-LIFT AND POWER OFF), AND A DARK WALNUT WOOD VENEER FINISH.
A 2-speed belt driven turntable that comes complete with a tonearm, mounted music hall spirit cartridge, and built-in phono amp.
The included music hall spirit cartridge has been precision aligned.
Features:
semi-automatic (auto lift & shut off)
factory mounted music hall spirit cartridge included (a $100 value)
aluminum platter with felt mat
removable head shell
adjustable vibration damping feet
dark walnut wood veneer finish
touch sensitive electronic speed control 33/45 rpm
built-in bypassable phono amp
unique uni-pivot tonearm design
accurate line for perfect counterweight position
dust cover
worldwide compatibility
Specifications:
Type: 2-speed semi-automatic
Driving Method: belt drive
Platter: 305mm dia. aluminum die-cast
Speed: 33 1/3 and 45 rpm
Wow And Flutter: typical: less than 0.12% WTD at 3KHz RMS(CD-4005)
                                  limit: Less than 0.15% WTD at 3KHz RMS(CD-4005)
Power supply:        DC12V,2.0A / universal power supply
Dimension:              17.1(W) x 14.5(D) x 6.2(H) in.
                                  435(W) x 367(D) x 157(H) mm
Weight:                   15.2lbs. | 6.9Kg