PHARRELL WILLIAMS G I R L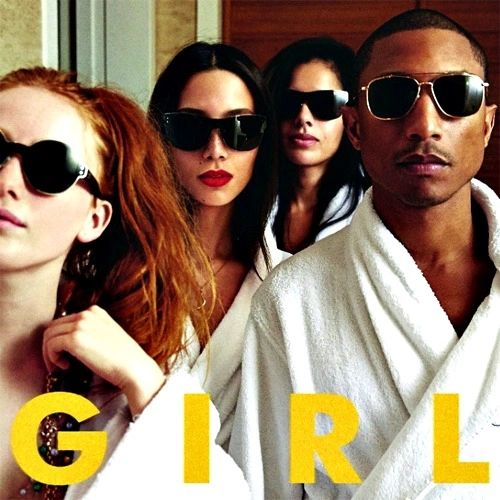 PHARRELL WILLIAMS G I R L
2015 Grammy Award Winner for:
• Best Urban Contemporary Album
• Best Pop Solo Performance - "Happy"
2015 Grammy Award Nominee for Album Of the Year!
Featuring appearances by such artists as Kelly Osbourne, Justin Timberlake, Daft Punk and more, Pharrell Williams' first studio since his 2006 debut (In My Mind), features the celebrated single "Happy". The single is featured in the film "Despicable Me 2".
Musicians:
Pharrell Williams
Guest Artists:
Justin Timberlake (2)
Kelly Osbourne backing vocals (1)
Timbaland, beatboxing (2)
Miley Cyrus, vocals (6)
Daft Punk, vocoder (7)
Francesco, electric guitar (7)
JoJo, vocals (8)
Alicia Keys, vocals (9)
Selections:
Side A:
1. Marilyn Monroe (feat. Kelly Osborne)
2. Brand New (duet with Justin Timberlake)
3. Hunter
4. Gush
5. Happy (from Despicable Me 2)
Side B:
1. Come Get It Bae
2. Gust of Wind (feat. Daft Punk)
3. Lost Queen
4. Know Who You Are (duet with Alicia Keys)
5. It Girl