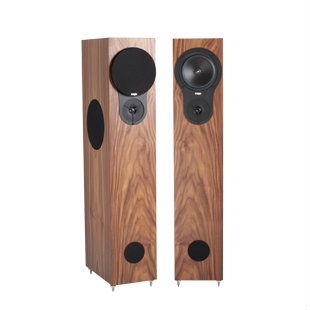 REGA RX3 LOUDSPEAKERS
The Rega RX-THREE loudspeaker system delivers balance, detail and dynamics thanks to a unique  handmade set of three Rega designed drivers and crossover. The newly developed DX-125 bass mid-range driver (using a doped paper cone) is at the heart of the RX range and combines perfectly with the Rega ZRR high frequency and RR125.8 bass unit. These custom units are mounted in a newly designed cabinet enclosure constructed from 18mm MDF and covered in a choice of three, beautiful, real wood veneers. The RX-THREE will  integrate perfectly into any home and deliver exceptional performance and musicality with a smooth and accurate bass response.
Available in stunning real wood veneers Walnut and Black Ash
System 2.5 way
Cabinet Construction 18mm MDF Real wood veneer 
Cabinet design Band pass enclosure
Dimensions (cm) H x W x D  80 x 16 x 25.8
Weight (each) 11.5 Kg
Reflex Port Front ported
Impedance Nominal 6 ohms
Sensitivity 89 dB
Power handling 100w per channel*
High Frequency unit Rega ZRR
Mid/bass driver (doped cone) Rega DX-125
Side bass driver Rega RR125.8
*Power handling figures are quoted as a guide. Amplification between 
30w and 500w can be safely used depending on the quality of amplification.
To ensure adequate clearance and prevent damage to the front facia, the grille magnets must locate directly onto the drive unit fixing bolts.