VPI PRIME SIGNATURE TURNTABLE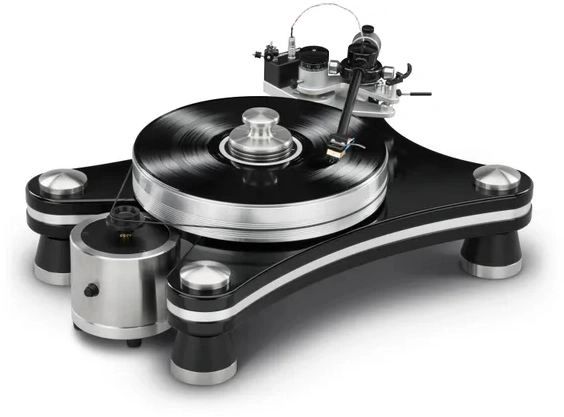 VPI PRIME SIGNATURE TURNTABLE
Note: Cartridge and Tone Arm Cable are sold separately
The Prime Signature is the next step up from the Prime, which took the world by storm 2 years ago during its initial release. It features an upgraded JMW 3D-10 Reference arm in a "metallic black" gloss finish with Nordost Reference wire. The chassis consists of an aluminum plate sandwiched between a composite material for improved damping.
Features:
Printed JMW-10 Tonearm.
​Wired with Nordost Reference Wire.
​Metallic Black Finish.
​VTA Base on the Fly.
Easy Cartridge Alignment.
​Interchangeable Tonearms.
​Made in the USA.
Technical Specifications:
Chassis Composition: Vinyl Wrapped MDF, Aluminum, & Stainless Steel.
Platter Type & Size: 12" Aluminum Platter, 20-Lbs.
Tonearm Included:JMW-10-3DR Tonearm.
Motor RPM:300 RPM.
Motor Pulley Accuracy:+/- .0005"
Wow and Flutter:.03%
Speed Accuracy:.04%
Rumble:82 db Down.
Footprint:19 ½" x 13 ¾"
Overall Size:21 ⅜" x 15 ¾" x 11"
Total Weight:66-Lbs