ATACAMA EVOQUE ECO DARK BAMBOO (CUSTOM SIZE)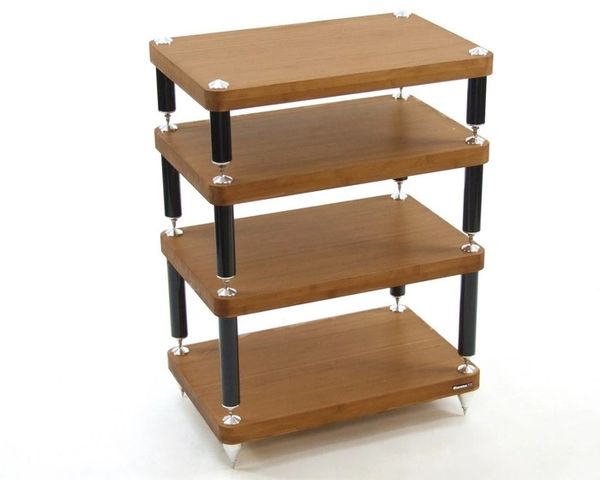 ATACAMA EVOQUE ECO DARK BAMBOO (CUSTOM SIZE)
The Evoque Eco series has a choice of three standard shelf inner heights of 145mm, 195mm and 245mm with a 300mm stand-alone leg option pack available separately. Each leg is equipped with a fully adjustable 8mm solid nickel spike to allow for very precise levelling and twin ASIST (Atacama Sonic Isolation System technology) gaskets to aid isolation. To compliment ASIST, Mechanical grounding has been developed using precision cut carbon steel studs that are not in direct contact with the outer leg collar. This grounding is designed to allow any residual resonance in the support an escape route away from the sensitive electronic equipment, so allowing your system to perform to its maximum capability.
All the Bamboo used in Atacama ECO supports is manufactured and sourced directly from a single plantation which processes the raw material to Atacama's exacting technical specifications. No fertilizers, pesticides or herbicides are used in its growth and the species used is non-edible to people and animals. Once harvested (at approximately 5-7 years of age), the Bamboo trees continue to grow rapidly making them renewable and due to the high growth rate, extremely efficient at converting environmentally harmful Carbon Dioxide into Oxygen.
Bamboo, being a manufactured, composite, processed material allows Atacama to build in consistency in relation to performance. With traditional solid woods no two trees are the same, so species, country of origin, local growing conditions, wood density, growth rings and the different ages of the trees used may introduce a significant performance variable. This does not apply to Atacama Bamboo.
Bamboo also has the benefit of its unique micro pore growth structure offering both vibration absorbing and sound dampening properties and, unlike some solid woods, the shelf modules will not warp with age.