EAGLES THEIR GREATEST HITS: VOLUME 1 & 2 180G 2LP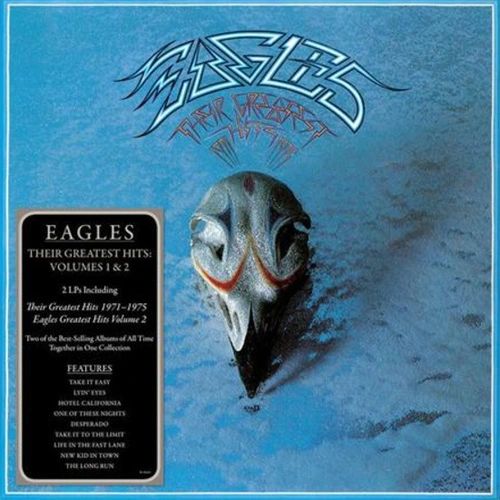 EAGLES THEIR GREATEST HITS: VOLUME 1 & 2 180G 2LP
Two of the Best-Selling Albums of All Time Together in One Collection!
Both Volumes 1 & 2 of The Eagles' Greatest Hits, two of the best selling albums of all time, now available as a Double LP set.
This 1976 release (Volume 1) would be the first compilation album for the now-iconic music group The Eagles. Volume 1 of the album contains hits released from 1971-75 including "Take It Easy", "Lyin' Eyes", "One Of These Nights" and more. Volume 2 features hits released between 1975 and 1980 including "Hotel California", "Heartache Tonight" "New Kid In Town" and more!
The Eagles are an American rock band formed in Los Angeles, California in 1971 by Glenn Frey, Don Henley, Bernie Leadon and Randy Meisner. With five number one singles, six Grammys, and six number one albums, the Eagles were one of the most successful recording artists of the 1970s. The final line-up included Joe Walsh, who joined in 1975, and Timothy B. Schmit, who joined in 1977.
• Their Greatest Hits 1971-1975
• Eagles Greatest Hits Volume 2
Bernie Leadon (vol. 1; Vol. 2 track 10 only)
Randy Meisner (vol. 1; Vol. 2 - 1,4,6,8,10)
Timothy B. Schmit (Vol. 2 - 2,3,5,7,9)
Joe Walsh (Vol. 2 except track 10)
Their Greatest Hits 1971-1975
5. After The Thrill Is Gone